Alastair Galpin
took to world record-breaking in 2004 after being inspired by a record-setting rally driver in Kenya. What began as a hobby soon escalated into an active publicity pursuit. Today, he promotes the work of social and environmental causes. For these purposes, the most fitting game plans are chosen; then world titles are attempted and frequently created.

Sustaining sponsor
If you would like regular exposure from Alastair's activities, become his Sustaining Sponsor:
A range of attempts annually
Your brand in multiple media
Distribute your own media releases
Receive product endorsements
More details about sponsorship opportunities
Special thanks
Behind every world record attempt is the expertise of professionals in their field.
Their success underpins Alastair's.
They are listed here
Furthest table tennis ball spit: 6.36 metres

This is the story behind my Guinness World Record™ for the Furthest table tennis ball spit.
My blood pressure soared. My pulse began to speed beyond what even a doctor would term normal. I licked my lips in anticipation. Anticipation of what, you may ask. To others, the opportunity to attempt a world record might not sound terribly exciting. But, being the strange individual that I am, when I came across this opportunity, my body reacted with enthusiasm. In actual fact, I remember my arms trembling with excitement and expectation. To me, that's normal.

This time, I was planning to spit. My expectation is that most humans can spit items some distance, but, as is the nature of world records, I wanted to spit something much further than anyone else. It was a selfish motive, but I nurtured the thought and spent considerable time wondering what exactly to use. In the large local stationery supply shop, when I was sure nobody was anywhere near, I tried inserting a few items into my mouth during a quiet retail period. Doing this, I hoped, would give me ideas until I felt confident that I'd arrived at the best possible plan.

First, I inserted a large rectangular eraser between my teeth. It tasted bitter, so I spat it out into my palm, and hid it in case someone came my way. Having wiped it free of saliva, I placed it back on the shelf for sale. If you really must know, I'll tell you that I did actually try to fit my mobile telephone into my mouth shortly afterwards. But it wouldn't fit. So I had to move onto the next item for sale. That was a pity, I thought, because the idea of spitting my cellphone was a wonderful one. Next, as I ambled up and down the aisles, I found a mini stapler which I stuffed into my mouth, head hung low. But it got stuck and I couldn't get the stupid thing back under my upper teeth. There I was, during business hours, trying to make myself look invisible against the shelves packed with an array of goods while wrestling with a bright pink stapler firmly lodged between my jaws. I felt like an idiot. And, trust me, that doesn't happen often.

Almost incredibly, I got the thing loose without anyone noticing. It only took a few seconds. When it came out, the stapler was saturated in bubbling saliva and I hurried to dry it on my shirt – which then gained a huge dark, wet patch. Only after I'd continued walking around the shop floor for nearly half an hour, and having received several peculiar stares, did I realise the wet patch low down on my shirt front must have looked as if I'd urinated on my clothing by mistake. I tucked in my shirt as fast as I could, and attracted more worried looks from passing customers. So I promptly speed-walked out the entrance and forgot about shoving office items into my mouth for the time being.

When I was alone in the safety of my kitchen later on, I had no concerns about letting my true personality show. Every item which I thought could fit in my mouth got picked on. An egg, the salt shaker, small potatoes, the milk bottle top and other things. I even dared myself to try the plug for the sink. It tasted like tin, so I spat it out straight away and it landed in the bottom of the sink with a loud clang. That gave me an idea. If the plug fell almost directly below my mouth when I spat it, I'd obviously need something lighter; something that would go further. What was the lightest thing I could think of?

This question bothered me for days. Everything I saw became an object of fascination as far as my goal was concerned. Others thought I may have been slightly retarded because even in public I mused over little things: hand railings, women's hats, paper coffee cups... But I remained focused on my thoughts. Then, gradually, a detailed concept began to take shape in my mind. The item needed to meet a long list of criteria I'd noted. And soon, the good news to myself was that I'd found the ideal thing. I wanted a table tennis ball.

The nearby sports shop was where I headed and within minutes, my palms were filled with virtually weightless white balls. Amused at what I wanted them for, the friendly manager gave me a few. That was a good start, I thought. Then, spontaneously, I stood back, turned to ensure no customers were blocking the open area alongside the service counter, and inserted one ball into my mouth. It was a very big thing to fit in there! My teeth scratched it and I could hardly breathe. But I managed. The shop manager began giggling which attracted the owner and others.

Customers at the other end of the shop looked up. I can't begin to imagine what they thought. Here was a man, standing with a table tennis ball jammed in his mouth, with his head pulled back and his nostrils stretched so much they'd been flattened, wiping away dribbles of slobber as they formed on his lower lip, hesitating to do something. I was amused at the mental picture of the scene in that shop. By then, the manager was engrossed in this madness. She'd set aside her paperwork and come to watch the action.

With a swift constriction of my chest, and a little help from my cheek muscles, I propelled the white ball across the sports shop. It sailed lightly through the air and bounced to a standstill near the door. I wasn't the only one to think that was a great thing to do. The already calm atmosphere in the whole shop seemed to lift into one of amusement. That's just what I like!

Nodding approval about the ball's performance to the smiling manager, I walked out. On my way walking home, I stopped several times to practise. I spat and spat that ball, and I thought that when it broke, I'd use one of the others in my pocket. But the tough item didn't get damaged at all. Like a faithful friend, every time I spat the thing, it flew ahead and entertained me. Back at home, I flung off my shoes and strolled onto the grass – not to relax, but to spit. For half an hour, I did just that. Satisfied with my ability to get a table tennis ball to fly ahead in the air, I retired from spitting for the day. This time I was nodding approval to myself.

As quickly as I'd hoped, the day on which I was to participate in a world record-breaking celebration came. With two brand new white table tennis balls, I headed into the sports area at the public event centre. My assistants followed, somewhat concerned by what I was going to have them involved with on that occasion. Those sorts of thoughts didn't bother me. We all set up the required gear next to the sand pit, and I briefly completed the admin with them.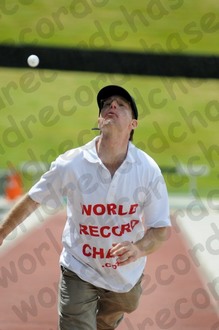 The rules stated that I needed to spit the ball on a level surface, and the allocated area happened to be outdoors. That was fine – until a breeze decided to begin blowing at precisely the time my world record attempt had been scheduled by the event management. Lovely. I was so visibly disappointed that others said they could see my shoulders literally dropping. Was that so? I thought. My heart was sinking fast. The balls were as light as feathers, and any breeze would catch them, making them fly off at random tangents. I could not let that happen!

Worse, the event management had begun making announcements about what I was about to attempt. At one point, I heard the voice mentioning that I could be about to make history by spitting a table tennis ball further than anyone alive. My thought in reaction was full of doubt. Spectators started gathering, expectantly. I had to perform and I needed to find a way to control the breeze immediately.

If I turned with my back to the wind, the ball might travel further than it naturally would, producing an exaggerated distance reading, and thereby resulting in possible world record failure. I wasn't sure about how the attempt would be treated by the judges if I spat across the light wind. So the safest – but least desirable – thing for me was to spit the ball into the oncoming breeze which was increasing in strength. I couldn't believe this was happening to me.

My assistants strung up a large sheet of shade cloth they'd found, hoping this would be of benefit to me. Unfortunately, the wind simply passed right through it, as if to defy our efforts. With a sense of revenge toward the wind overcoming me, I silently vowed to spit my table tennis ball as hard as I could into the wind, which I hoped would put up some resistance to its oncoming pressure. Of course my spitting would make no difference to the wind, but it was the best I could hope for as a comfort to myself. When my helpers were ready, the fun really began.

Each spit I made was a disaster. The ball either dropped just ahead of me, seemed to stop advancing in mid-air and fell to the sand, or even reversed in mid-air and blew right past my head! This was unbelievable. Here I was, spitting with all my might, and the ball was ending up behind me – in totally the wrong direction. It looked as if none of the spectators were on the verge of cheering. I had nothing to say to them. My irritation was escalating.

After a brief pause and an exchange of words with the helpers, I walked back to the sand pit to try more times. It can be exceedingly difficult to return to trying something when all results up to that point indicate that it cannot be done. I'm not sure if that applies to normal people as much as it applies to me, but this happens to me often. And that attitude wasn't what I wanted right then. I jammed that ball in my mouth and inhaled as if I were a bewildered fire eater in a stage show. During a lull in the wind, and with plenty of advice on what air movements the helpers could feel, I propelled that horrible little ball as far as my breathe could send it. The annoyance in my spit was visible to all. Some giggled; others just looked at the ground when I glanced over. They knew I was in no good mood. Yes, I told all these people in my mind, even record breakers get into foul moods – they were witnessing one.

The helpers measured the distance. I stood in silence, sullenly. But my eyebrows had a reason to celebrate when I heard the distance was further than any I'd spat a table tennis ball that day. In fact, my eyebrows began dancing on my forehead; all the spectators smiled or frowned in response. I just kept wiggling those eyebrows in relief. Since the wind had caused my world record attempt so much difficulty, everybody present felt this was the time to stop. I agreed. No, actually I more than agreed. I wanted to hug them all for appreciating how tough this had been on my lungs and my patience. They seemed to understand, and I was happy with that.

The helpers and I completed the last of the required admin. I was so pleased. Instead of thinking about my sore jaw, my tiredness or even where I'd lost one of the spare balls, I was focused on getting away from that wind. Let me tell you, everyone, that a head-on wind and a table tennis ball flying the other way don't make good friends. I know – from personal experience.

When I received the world record certificate, holding it in my hands brought back strong memories; recollections of spitting, but the memory of reversing table tennis balls in flight were the most vivid. Quietly, and all by myself, I kissed the paper with extra zeal. All that effort had been worth this sheet of paper, for sure.