Alastair Galpin
took to world record-breaking in 2004 after being inspired by a record-setting rally driver in Kenya. What began as a hobby soon escalated into an active publicity pursuit. Today, he promotes the work of social and environmental causes. For these purposes, the most fitting game plans are chosen; then world titles are attempted and frequently created.

Sustaining sponsor
If you would like regular exposure from Alastair's activities, become his Sustaining Sponsor:
A range of attempts annually
Your brand in multiple media
Distribute your own media releases
Receive product endorsements
More details about sponsorship opportunities
Special thanks
Behind every world record attempt is the expertise of professionals in their field.
Their success underpins Alastair's.
They are listed here
Furthest coin flick: 14 metres 6cm

This is the story behind my Guinness World Record™ for the Furthest coin flick.
If you suspect you've read about this world record on my website before, you're right. My first attempt was back in 2005. Since, I've developed a knack for flicking things, most noticeably coins. So here's my latest success.

I love flicking things, from scrunched up leaves to pebbles and bread crumbs. I'm a flicker, in other words. And although I've flicked coins successfully for world records in the past, what's to stop me doing it again? Nothing. So that's why I reapplied for the title.

On a backpacking trip to the north of New Zealand, on which I broke several world records, I stayed with and assisted a newly settled family with renovating their plot of land along a creek behind a well-established ridge of sand dunes. After a day of sweating profusely on the coastal plot in the extra strong sunshine caused by the hole in the ozone layer, I managed to round up the witnesses I needed to watch me flick a New Zealand 10c coin as far as I possibly could. I scouted out and hoped to choose the neighbouring family's driveway since its characteristics most closely matched those stipulated in the rules. The resident potter and his partner obliged, much to my excitement.

With the playful dog in tow, I raced back to my caravan to collect all the items I'd need: steel tape measure, coins, my video equipment and the standard paperwork. Before I knew it, the group I'd lured into assisting me had arrived. This consisted of the professional filmmaker who'd capture the event for TV purposes, witnesses and others to check the coins' actual landing spots.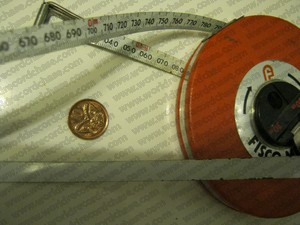 Perhaps I annoyed my compatriots that afternoon, but I couldn't help it. As I always do, I was fussy as ever about following the rules, and no doubt they thought I was over-doing it. But was I? To me, failing a world record is far more of an emotional burden than being somewhat bossy in order to increase my chances of success. So I soldiered on, issuing rule after instruction, for hours.

My ad hoc team lined the coins' expected flight path, with attentive gazes, awaiting each coin as I launched it off my left index finger. I had to beat my own previous achievement, but at around 12 metres, I had a challenge on my hands – literally. The first propelled coin fell pathetically at my feet. The second wasn't much of an improvement. Neither was the third, fourth or fifth. Visions flashed through my mind of all these people saying, "You can't do it so we're leaving now". But the good folks who'd come to help me stayed, giving me as many chances as I wanted them to. So I continued flicking, failing, and getting them to pick up the coins to hand back to me.

Feeling somewhat embarrassed at my performance, I flicked a coin with massive muscle power, and blinked for a split second longer than usual. When I heard a series of groans from the watchers, I knew that once again, I'd failed. Oh no. No!

Pursing my lips with humility, I tried once more. This time, for what reason I don't know, my index finger impressed me greatly. The coin flew so far, I thought it would never return to ground. But it did, at the 14.06 metre mark. The witnesses were equally as impressed as I was surprised by my anatomical flicking apparatus!

Hastily, we measured the distance and checked and double-checked what I'd done, to make sure I had the best chance of success. For that, I knew, I'd need to capture detailed footage on the video, because if the judges suspected foul play, I knew I'd not get the world record. So I maintained my thorough cross-checking of rules and duties until I was completely satisfied we'd attended to all that mattered. The helpers sighed from relief when I announced, "Ok, done!"

If only every world record attempt was that easy, I'd have a thousand by now, and hopefully I could do each of them in the name of an environmental organisation. But part of the glory is overcoming the challenges, and in all honesty, I like the challenges which the rules present. Naturally, succeeding is the best feeling. And that feeling about flicking a coin came to me soon afterward.

The day I got my results, I emailed my temporary helpers excitedly to share the news. Then I sat down to write this story, because what's my latest world record achievement without telling everyone on the planet?