Alastair Galpin
took to world record-breaking in 2004 after being inspired by a record-setting rally driver in Kenya. What began as a hobby soon escalated into an active publicity pursuit. Today, he promotes the work of social and environmental causes. For these purposes, the most fitting game plans are chosen; then world titles are attempted and frequently created.

Sustaining sponsor
If you would like regular exposure from Alastair's activities, become his Sustaining Sponsor:
A range of attempts annually
Your brand in multiple media
Distribute your own media releases
Receive product endorsements
More details about sponsorship opportunities
Special thanks
Behind every world record attempt is the expertise of professionals in their field.
Their success underpins Alastair's.
They are listed here
Furthest coin blow: 37.6cm

This is the story behind my Guinness World Record™ for the Furthest coin blow.
Well! This was quite an event, let me tell you. I'll begin by saying that New Zealand coinage is fairly heavy and is clearly not produced to roll on edge for any substantial distance. That's not speculation; I believe I've proven it.

Since I was going to make several world record attempts in a train station, I thought it wise to maximise my opportunities and make one more. I'd blow – or try to blow – a coin in current circulation, I thought. Nice idea but a lot of effort. The very first thing I did was reach over to the basket and pick out a selection of random coins, which I tossed onto my office desk. Thankfully, there wasn't anyone else around when I did, or I'd probably have attracted attention straight away. And right then, attention was not what I wanted. Yes, I love media attention... but not when I'm trying out a new world record idea with absolutely no inkling of what to expect.

Unsure of myself, I picked through the coins and began an assessment process, wondering if these metal disks would allow me to overcome their rolling resistance with my breath. Never have I inspected coins so closely. I noticed that all were patterned three-dimensionally, thereby making each coin's centre of balance tricky to locate. Worse, I wondered if this axis of balance would change during each complete coin rotation and eventually pull the coin to one side, causing it to fall flat. On various denomination coins, each with a differently ribbed edge, the depth and distance between each ridge was sure to influence rolling speed, especially as the coin slowed. Some had a very slight raised lip around both their upper and lower perimeters, which I was sure would also impact on the stability of the coin during rolling. And so my observations went. Of course, this was all suspicion, but I was soon to prove that it was all true.

Still with nobody around, I balanced the first coin on its edge near one corner of my cleared desk. It toppled and I rebalanced it. It toppled. I tried again, but it consistently fell over. Minutes later, I put that coin back in the basket and tried the next. Same thing. I used extreme care to try manoeuvring the piece of valued metal by moving my fingertips barely a fraction of a millimetre at a time, very slowly. Try as I may, I felt incompetent: why could I not even get a coin got stand on its edge! It was then that I realised this was going to become far more of a challenge than I had expected it to be.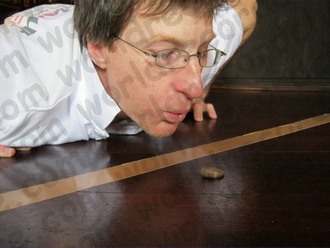 Eventually, after much frustration, I got the first coin to stand upright. I sunk back and levelled my line of sight with the top of the coin while extending my lower jaw. As I inhaled silently, perhaps a draft of air caught the coin and it fell over. So I'd made no progress. I started all over again. This was becoming a tedious waste of time, I could see. But the mere thought of being able to claim another world record kept my spirits up. For over an hour, I spent my time balancing coins and trying to blow them. At first, it seemed I could not progress beyond this. But then I succeeded, and was it a joyful moment!

I got a coin to roll sluggishly forward, and I could hear it advancing because each ridge along its circumference touched the surface as it went, with rhythmic regularity. It sounded like the faint ticking of a small clock. When the clicks began sounding further apart, I found myself pulling faces and clenching my fists to encourage the coin to continue. But somehow, that didn't work. It stopped and fell flat with a sharp smack. How far had it gone, was the first thing I wondered. Disappointingly, the thing hadn't even travelled the length of my hand!

I engaged myself in this behaviour for hours, then days. I was acutely aware of the approaching date on which I'd attempt a handful of world records. In some ways, I was anxious for that morning to arrive, so I'd not have to blow little coins which seemed determined to resist me every time I tried. I spent a lot of time wondering how quickly the days would pass, and sure enough, they did.

With my helpers, I entered the train station and we went about setting up the scene for what I needed. I was restricted to one central area, which happened to be quiet, thankfully. As they expected, I got my helpers to complete some admin with me. A few passengers glanced over, but nobody seemed to be terribly interested yet. Once I had completed the admin, though, interest mounted. To practise on site, I dropped to the floor and checked various things. Youngsters gathered, but I ignored them since I was so focused on my objective: to blow a coin an impressive distance. The spectators seemed almost a blur in my peripheral vision, and contrastingly, the coins I was working with seemed all-important.

My assistants and I marked the line from which I'd blow, and I began heavy breathing in anticipation. This was a tricky event, and we were surprised by how tough it was. Having positioned myself, and with my helpers standing over me, I started to blow coins. I blew the first coin, the second and third and many more, all much to our disappointment. My frustration was escalating as I tried and could not succeed, time after time. It felt as though I'd done my best, and that, embarrassingly, was hardly noticeable. But, picturing world record success in my mind, I was fixated on getting this right. So, testing the patience of my two helpers, I vowed to keep them both with me until I was satisfied. I heard at least one grunt.

It must have taken 15 minutes or so of blowing coins barely centimetres when my one assistant suggested I try a completely different technique. I was astounded that, for all my practising, I'd not got the technique perfected yet. Using my lips like a flexible funnel, I directed airflow at a particular angle and – to my amazement – the coin rolled on forwards. The look on my face must have been one of complete idiocy, or at least that's how I felt. It was a positive sign at last! But, I reminded myself, it simply wasn't good enough. Sensing a twinge of irritation within myself, but also positive progress, I eyed the coins lying to one side. I would get this right! I have to get this right! Do it!

By then, the spectators who were watching casually had all drifted off. Realistically, what was there to keep them amused? Just about nothing. Ironically, it was then that I impressed my helpers and myself by blowing one coin its record distance. Quite literally, I couldn't believe I'd done it. My witnesses probably thought the same. We smiled at each other pleasingly.

After a brief moment in amazed silence, I had to draw our attention to the measuring and admin which was a vital part of finishing the event. When the tape measure was pulled out and the centimetres and millimetres had been documented, the helpers announced the result to me. Was I happy with my coin-blowing power? I can't remember; I was probably too dizzy!