Alastair Galpin
took to world record-breaking in 2004 after being inspired by a record-setting rally driver in Kenya. What began as a hobby soon escalated into an active publicity pursuit. Today, he promotes the work of social and environmental causes. For these purposes, the most fitting game plans are chosen; then world titles are attempted and frequently created.

Sustaining sponsor
If you would like regular exposure from Alastair's activities, become his Sustaining Sponsor:
A range of attempts annually
Your brand in multiple media
Distribute your own media releases
Receive product endorsements
More details about sponsorship opportunities
Special thanks
Behind every world record attempt is the expertise of professionals in their field.
Their success underpins Alastair's.
They are listed here
Furthest champagne cork spit: 5 metres

This is the story behind my Guinness World Record™ for the Furthest champagne cork spit.
"No! No, don't throw that champagne cork away. It's too important. You may have finished with it, since all you want is the wine in the bottle, but I don't care for wine right now. I want that cork, and you won't be left to sip your drink in peace until I get it" is something I clearly remember shouting out at a social event. Voices dropped and I received the cork, but also many unappreciative glances. I wasn't bothered. Let them flail in their own drunkenness while I aspire to greatness, were my thoughts.

The first thing I did with the perfectly moulded cork was sniff it. Wonderful! The next test was to suck it gently, like a human baby seeking its vitality from a plastic milk bottle. Yes, I murmured to myself, this could be good. After all, the aroma and the taste were highly appealing. In fact, the cork was so flavoursome, I kept sucking until the host stared at me with fire in her eyes. Sheepishly, I turned, hunched my back as if to hide, and slipped out of the room.

Those last few seconds hadn't been pleasant. But that was all about to change. Oh yes. Me and my cork were about to have a party of our own! I clutched the little item in my fist, as if to welcome it to my world, one in which it'd be repeatedly smothered in saliva and spat until it lost all sense of direction. I bet the cork thought this was a wonderful plan; I certainly did. Down at the other end of the house, the atmosphere was relaxed. The cork seemed to be begging me to insert it in my mouth as though it was vital for my health. I was becoming hyperactive with expectation. Yes, yes, yes - a cork all to myself; I wiggled my buttocks vigorously with utter delight. I don't mean to sound strange, but I was already having a better time than with the social bunch down the opposite end of the building. They'd be jealous if only they knew, I felt.

I formed my lips into a ring and rotated my tongue along them a dozen times. Then, concerned that they weren't yet satisfactorily moist, I repeated this. Tilting my head back seemed to help the saliva coat every square millimetre of my lips, giving me extra confidence. With a lot of concentration, I wiped my tongue as far up my cheeks as I could, all to ensure the cork would slide out of my mouth effortlessly. When I was sure the cork couldn't expect a more lubricated flight, I brought my head forwards and. Two of the visiting women burst into laughter; they'd been watching me in silence. I couldn't help myself and the next thing we were all giggling. Once we'd calmed down, I reminded them that they weren't welcome, and rushed them both back to their wine-comforted friends. On my own once more, I wet my lips all over again with extreme care.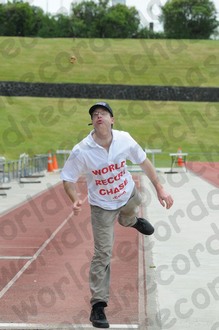 As if performing a scientific manoeuvre, I inserted the cork, then squeezed my lips just enough to steady it. The cork, I hoped, was facing straight ahead, like a missile awaiting launch. Flaring my nostrils like a Gelada baboon, I inhaled deeply. Holding my breath, I steadied myself by resting my torso on one arm which I'd put over my knee. Before I counted down, I wanted to see where the projectile would fly, but with a distended mouth full of air, tilted head and eyes wide open, I couldn't see. What did it matter? With all the force my chest could muster, I spat the cork... and a plentiful spray of saliva, across the carpet. Droplets sprinkled the window pane, the armchair alongside me and probably a lot more vaporised in the path of the cork.

But it was the cork which I was interested in. I dashed forward, one measured pace at a time. Amazing! The distance I could spit this thing was impressive, even if I say so. When I picked it up, it had acquired an instant fur of whatever one finds on a carpet in need of a thorough vacuum. I wrinkled my nose at first seeing it, but then thought it was worth swallowing if it'd mean yet another world record. A second later, the cork was in my mouth. To stop myself from dribbling down my shirt, I began sucking, much like an infant. I suppose I was ingesting more than just wine-flavoured saliva.

Much of my afternoon was spent with the cork, and, odd as it may sound, the cork and I were developing a close relationship. I rolled it in my mouth and spat it many times; it flew through the air and collected dust just as many times. It seemed I'd found a great friend. Eventually – but only after quite some time, I got tired of that game and went to rejoin the others, who, by this stage, would have enjoyed plenty of wine, I thought. Yes, I was right. It was silent when I opened the door to the gathering's room. They were asleep, on the large spreading chairs. Well, I'd literally missed the party. So, with nothing else to do, I devoted even more time to my beautiful cork.

When I was questioned, I explained in explicit detail what I'd done with the cork. People were humoured. I was loving the attention. Someone jokingly called me a 'mad corky' but I misheard and asked what a 'cork head' was. Everyone must have overheard that. It was to be my fate. From then on, the words stuck and I'd mistakenly labelled myself with two new nicknames. What a tough life.

So, I, mad corky, continued playing with corks for weeks to come. I assembled quite a collection, sucking, spitting and feeling each to ascertain its suitability for my next world record attempt. By then, those who saw this behaviour had become used to it, so my cork-grabbing habit had become routine. I evaluated each, and chose what I thought was the perfect aerodynamic cork. It tasted very fine, I don't mind adding. Knowing it was a good quality, expensive wine cork made me even more confident it would bring me success. I became proud of my cork, laying it on my bedside table every evening so I could wish it a pleasant night's sleep with me. Somehow, I was under the impression that the cork thought there was potential for a love relationship to develop, given enough time. But, in my life, world records come before love, so the cork wouldn't have a chance, no matter how appealing it thought it was to me. But I was happy to play with it!

And so the days passed until the most important day came for the cork. I imagined that if this cork ever returned to the land of pre-inserted wine corks, it'd be famous. Even before I had attempted my world record, this cork would have screeds of tales to share about its brief life as a spitting fascination. But I knew that wouldn't happen, and it saddened me that the poor little cork would never get its own opportunity to claim fame among other corks. The best I could do was spit it further than it had ever been propelled to make sure I secure the world title. But that was going to be a lot more difficult than I had planned.

I arrived at an event at which the public was invited to attempt world records of various sorts. In my bag was the cork, which I was guarding like a girlfriend. The rules stated that I needed to spit it on a level surface, and the allocated area happened to be outdoors. To my disbelief, a light breeze began at the same time that my own helpers, and additional helpers, came to prepare for this event. An announcement was made to everybody present, and several spectators circled the location. Because this event was managed on a schedule, I had to make this attempt at the planned time. I was not happy with nature at that moment. There was no alternative.

My assistants set everything up, but also had to find a way of curbing the breeze which was then increasing in strength. If I spat the cork away from the wind, I knew that would give a falsely advantaged measurement, and the world record attempt might fail. Because the sand pit was rectangular, my only option was to spit into the wind. Resigning myself to this, I worked with the helpers to erect a temporary barrier made of the only thing we could find: a length of mesh netting. It didn't do much good, but I hoped it would reduce the wind speed even fractionally.

Standing behind the marked line, I breathed in and out many times to increase my lung capacity. When I felt that my upper chest was sufficiently flexed, into my mouth went the cork, and through my expanded nostrils I inhaled slowly. Once again, looking like that baboon I'd been when practising, I concentrated with all my mental energy. The next thing, the cork came hurtling out of my mouth, shedding blobs of saliva as it shot into the head-on wind. The dull "puh" sound produced by the cork's exit aroused interest from those watching, and many were smiling as I turned to see their reaction to my first public cork spit.

The cork had disappointed me. It had fallen embarrassingly close to my feet; within a giant step of my leading foot. I wasn't pleased. The helpers pointed out the exact landing spot and marked it. I tried again. This time, the cork landed further ahead, but I still was not satisfied. The breeze was now becoming a noticeable wind. Biting my jaw in mild irritation, I vowed to triumph over this challenge. I would make sure I spat this cork a reasonable distance, no matter how strenuous it proved to be on my lungs. With determination welling up inside me, I snatched the sand-coated cork, wiped it on my shirt briefly and put it back on its launching pad, my tongue.

My resolution to succeed kept the helpers and I busy for a lot longer than we'd anticipated. We all had to move along to other events of the day, but I continually asked them to stay with me. I spat, and I spat, and I spat. It became rather repetitive, and the results were nothing impressive. And then! We must have timed things well because, during a break in the wind, I spat that cork and it seemed to want to demonstrate its flight capabilities to me. It went the furthest we had seen it go that day. Joy. When we measured the distance, I was satisfied and the admin was seen to shortly afterwards. That world record attempt took a lot of spitting, but I was adamant I could do it. From the tape measure's reading, it seemed I'd succeeded.

My telephone rang. Media. I was live on radio, and the presenter wanted to know all about it. Then the next call and the next. It seemed that radio presenters found cork-spitting an entertaining piece of news trivia – especially when I elaborated on the taste and feel of a discarded wine bottle cork. The interviews came in fast for the next few hours. At one point, I wished these radio hosts would leave me alone so I could get on with my next world record attempt. But I generally love being on radio, so I answered each call with my usual excessive enthusiasm.

Within days, news had spread around the globe and my world record attempt was appearing on entertainment news websites of large international radio broadcasters. I was enjoying the attention. The calls I got were all from very inquisitive radio station staff, keen to inform their listeners of my latest superfluous antic. I played along and encouraged their humour. That's a great feeling, I always think.