Alastair Galpin
took to world record-breaking in 2004 after being inspired by a record-setting rally driver in Kenya. What began as a hobby soon escalated into an active publicity pursuit. Today, he promotes the work of social and environmental causes. For these purposes, the most fitting game plans are chosen; then world titles are attempted and frequently created.

Sustaining sponsor
If you would like regular exposure from Alastair's activities, become his Sustaining Sponsor:
A range of attempts annually
Your brand in multiple media
Distribute your own media releases
Receive product endorsements
More details about sponsorship opportunities
Special thanks
Behind every world record attempt is the expertise of professionals in their field.
Their success underpins Alastair's.
They are listed here
Fastest time to tie a Windsor knot: 12.91 seconds

This is the story behind my Guinness World Record™ for the Fastest time to tie a Windsor knot.
So you think you can tie a tie. Most men do. Well then, prove it! You may be able to tie a shabby knot, perhaps you can't tie a double Windsor, or maybe you're the type to sling the length of material around your neck in any way that'll pass as acceptable. But this page is the domain of a professional tie-tier!

Of course it took me effort to get this right, but I'm not one for giving up easily - well, not unless something really tough comes along while I'm tackling a project. But for tying a Windsor knot – what could possibly get in the way, apart from my own fingers? And that's precisely what happened time and time again.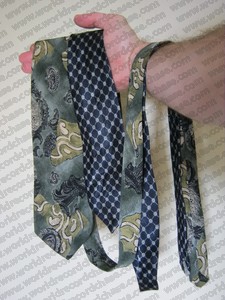 To begin, I practised in my own home at the time, which, by the way, would have been more aptly named 'world record alley'. It was usual for my friends to find all sorts of world record attempt project evidence stuck to the walls, in piles on and under my office desk, in folders and of course on my computer. But this time all I needed to practise was a silk necktie I'd borrowed from the neighbour and a reliable stopwatch-cum-timer. I had both. And I was ready as I could ever be.

With my lungs inflated to the maximum, I straddled in front of the mirror and concentrated with all my might on the reflected image: me. When the timer beeped, in silence I strapped the length of material in whips around my neck, trying to follow an exact method without catching my fingers on one another until I'd completed the routine. But getting it right was harder than it seemed it'd be.

With furious speed I'd snatch the tie, stretch it out and clench one end while lifting the other into place. Then it was a matter of twisting and folding, fast, while trying my very best to execute each move seamlessly. And that took me days of trying to achieve. So I spent at least 3 afternoons standing facing my full-length mirror, flipping and pushing my hands with deft.
As often happens, I went through a period of wondering whether I could actually do this. And each time that doubt struck, I roared at myself in my mind, "Of course I can! Now do it!" and so I motivated myself to keep trying.
To push myself, I called my witnesses and arranged the attempt. This meant I had to improve, since my witnesses would certainly not be impressed if I called them over for something I wasn't confident in my ability to accomplish! Days later, they arrived and I pretended I was an extremely experienced tie-tier.
With the video camera in place, and one of my witnesses with their index finger on the camera shutter button, I re-read the rules and the 3 of us discussed our plan again. Then satisfied, I laid out the tie and inhaled as I'd done during my practising. Upon my instruction to start, I launched into it, thrashing the tie about and seconds later, releasing it more-or-less in place around my neck. But that quality was not good enough for my witnesses or for me. I slowly pulled the tie loose and laid it out once again. It was time to retry, and retry I did for much of the time we spent together..
From my years in this game, though, I know it's just a matter of time before I strike what I think is success during these attempts. And so I kept going – and had to calm my witnesses on more than one occasion – until, unexpectedly, they cheered and I realized I must have tied a tie in good time. Sure, I managed to do my tie in about 14 seconds but that didn't impress me.
I convinced my accomplices to let me continue, and after much ado, I got another cheer from them. This time, to my delight, I'd tied the knot in 12.91 seconds – and was I proud of that!

We decided I'd cease trying. Then I had to attend to the routine paperwork to meet the rules set out by the judges, and my witnesses sat down to do the same. It would be a long time before I'd receive the official result regarding my efforts at tie-tying. But when I got the news of success, it made me want to run out into the street, rip off any man's tie I saw and re-tie it for him my way!
So, all this has had an impact on my life, to tell the truth. I feel like a real man these days, because tying a tie is a manly thing and I've got the world record for it. I wish I could convince every eco-warrior to tie their tie as I do before they walk into meetings regarding saving the planet from mankind, because they'd be filled with the same great zest and confidence I feel.
Now wouldn't that be fantastic?