Alastair Galpin
took to world record-breaking in 2004 after being inspired by a record-setting rally driver in Kenya. What began as a hobby soon escalated into an active publicity pursuit. Today, he promotes the work of social and environmental causes. For these purposes, the most fitting game plans are chosen; then world titles are attempted and frequently created.

Sustaining sponsor
If you would like regular exposure from Alastair's activities, become his Sustaining Sponsor:
A range of attempts annually
Your brand in multiple media
Distribute your own media releases
Receive product endorsements
More details about sponsorship opportunities
Special thanks
Behind every world record attempt is the expertise of professionals in their field.
Their success underpins Alastair's.
They are listed here
Fastest time to eat a muffin (no hands): 33 seconds

This is the story behind my Guinness World Record™ for the Fastest time to eat a muffin (no hands).
Who likes eating like a pig? I do, if it's for a world record title. Otherwise, good manners are in order. Because this was my first chance to land a world record for muffin-eating, I went all out and ate like a hungry pig on steroids. Here's the story.

I saw that world record title as a tempting offer. Off I raced to the supermarket, with my scale, measuring this and that type of muffin. The shoppers looked at me strangely, but I didn't care at all; they were shopping to eat, and I was shopping to play.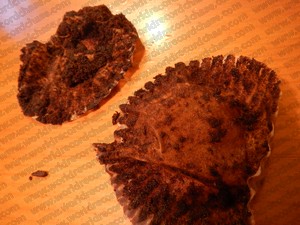 With the help of the baker, I picked a tray of chocolate muffins I thought would be just right, and sped home to lay them out on the table. With my locally famous accomplice by my side, Scott – a young man with Down syndrome, I breathed in and out several times to prepare myself mentally for the challenge ahead. Scott stared at me. I was getting ready.

We joked and giggled somewhat, after which I barked at Scott to keep quiet for the action. Having weighed the first of 6 muffins, and placed the timer in front of Scott, we set to it and I tossed all my table manners aside. My face launched into that poor muffin at speed and I devoured it in well under a minute. In my mind's eye, my own behavior reminded me of how people are ripping their way through the last remaining natural resources on the earth, with little or no regard for the consequences, as told by Greenpeace. In the case of my muffin, those consequences would be utter annihilation.

Anyway, who's got time for manners when there's a world record to be had! There was chocolate dangling from the stubble on my chin, and I could feel lumps of muffin easing their way down my gullet. There were even chocolate speckles on my cheeks. It felt awesome.

I pulled a funny face at the camera, and Scott giggled. Then I got serious, and began showing the video around my work area. Yes, I call it a work area because this is how I love to spend my time – attempting world records. I knew the judges would be watching carefully, so I concentrated on what I knew they'd want to see as proof of my attempt.

The timer had sounded sooner than I'd hoped for, and I knew that attempt was not a success. But I recorded it on the video in any case. Why not? Next, I dug into another muffin but stopped pretty smartly: it contained a length of thread. No! I could hardly believe it, but it was true, I tell you. I flung the unwelcome thread to one side and reached for the other 4 muffins, which I wolfed down, one after the next.

Feeling slightly sick and knowing precisely why, I leaned back for a few moments to let my stomach settle. Oh, how dizzy I felt. I thought I might vomit all over the video camera, but thankfully that didn't happen. I sat there, motionless, somehow confident I had succeeded on the 5th muffin.

I cleaned up the table, and went through the regular routine of sending video to the judges and so forth before waiting for the official decision. And when it came, it was good. Success at 33 seconds. Hooray! The news made my day.