Alastair Galpin
took to world record-breaking in 2004 after being inspired by a record-setting rally driver in Kenya. What began as a hobby soon escalated into an active publicity pursuit. Today, he promotes the work of social and environmental causes. For these purposes, the most fitting game plans are chosen; then world titles are attempted and frequently created.

Sustaining sponsor
If you would like regular exposure from Alastair's activities, become his Sustaining Sponsor:
A range of attempts annually
Your brand in multiple media
Distribute your own media releases
Receive product endorsements
More details about sponsorship opportunities
Special thanks
Behind every world record attempt is the expertise of professionals in their field.
Their success underpins Alastair's.
They are listed here
Fastest time to shell one boiled egg: 14.79 seconds

This is the story behind my Guinness World Record™ for the Fastest time to shell one boiled egg.
Italy - Milan, to be specific. I arrived here to take part in a world records TV show 2 weeks ago. During this time, I've been astounded by the variety of skilled individuals and teams of show participants I've seen.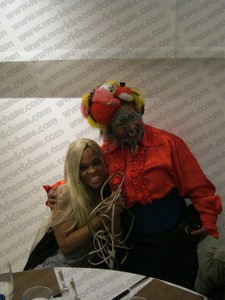 Among the latest artists to impress me had been The Dutchess, a singer by profession – a lady with immensely long fingernails. And, yes, if you saw her nails, you too would be dumbstruck: seemingly endless nails that look like works of fine art of a bizarre nature, covered in glitter. This American woman told me that, sadly, the previous world record holder, Lee Redmond, had lost her fingernails in a vehicle accident. How awful for Lee. Then, I met an African man, originally from Benin but now resident in South Africa, the Famous Eggman. He's come to balance thousands of eggs on his head, which he proudly explained to me are affixed using a wide range of materials over several days.

And soon after, I met Glenn Coxon, martial arts expert. Glenn had arrived to smash planks of wood with his hands. During our introductory chatting, Glenn had humbly told me he used to be Chuck Norris' training partner. I was mighty impressed. Just when I thought I could not be more amazed, into my sight came woman in excessively colourful costume. As she introduced herself to others, I noticed her face was strangely out of shape. When I saw others taking photos, I walked over myself to find the one and only Elaine Davidson – the world's most pierced woman – less than a metre from me. Piercings covered her face just about everywhere. I had no words, but we later got chatting, and I found Elaine to be a very pleasant lady.

But let me focus on the real story I'm writing here. My schedule here turned out to have me make 3 world record attempts recorded on set, back-to-back. Having put on 13 gloves in a minute and then having held 8 burning candles in my mouth simultaneously, it was my time to shell an un-pricked boiled egg as fast as possible.

I currently hold this world record, but when I got it, things didn't go well. During practice for my present record title, I'd discovered that the older the egg, the faster it shelled. I actually shelled one so fast, if you'd sneezed you'd not have seen my handiwork. But the day I made the attempt, the eggs I had must have been fresher because I battled to pick the shell loose. Despite that, I got the world record and I was here to improve on my previous best.

To the side of the main TV recording studio, a small area had been arranged and the table was ready for my action. It stood beneath bright spotlights and to the front of a bank of small TV screens. Heavy cables twisted across the floor seemingly in every direction, and there wasn't a moment during which one could claim that the set was silent. Understandably, how could there be silence with celebrities and programme staff walking between all points of the building?

But there was quietness in my mind. While waiting for a range of people to rush over and each contribute a small step towards getting the set absolutely ready, I relived the hours preceding my entry into the mini studio. One egg after the next, they'd been destroyed. The production staff had brought me 2 dozen fresh eggs, boiled, and ready to practice with. But, unbeknown to them, their egg preparation had not been perfect. To be fair, how could they know that an egg-shelling world record attempt required intricately detailed planning?

Let me explain. I don't mean to be difficult, but you've got to understand that I needed the ideally cared for egg. Not just any boiled egg, no! A good practice egg was one which had been sitting on the supermarket or home shelf for nearly a month, and one which was almost as wide as it was long. But not quite; I'd need a visible apex to hook my finger into and twist a section of shell off to the side, then straight downwards. Having been boiled thoroughly, the egg had to be cooled using a series of 5 steps, and then marked so I would not lose it amongst the unsuitable eggs.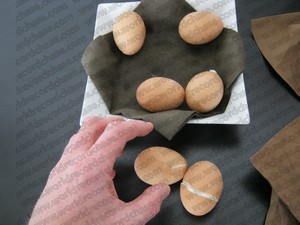 The TV studio staff had brought me more eggs which I boiled myself, while my assigned Italian-English translator watched with interest. He was helpful at every step, and together we completed numerous successful practices. I thought of how my hands needed to be dry but not too dry, how I needed to twitch specific fingers at appropriate times, and then use my wrists as levers to extend the actions of my finger movements.

"Alastair!" I heard, and snapped out of the mental rehearsals. They were eager to proceed. When asked if I was ready, I really didn't have any option but to say yes. Three eggs were brought to the table, plus a plate and a dishtowel. Everyone was waiting for me. Oh.

The world record representative held up his stopwatch, people went quiet and I saw cameramen to the front of me adjust their stance. I had no way out but to perform. The stopwatch started, my hands dashed for the egg, and it was action!

I knew I'd beaten my existing time to shell the egg – that would be easy. But by how much time? I didn't have the chance to find out, sadly. The world record representative and his colleague inspected the shelled egg I'd dropped on the table the instant I had finished. I waited for a few very long seconds as they discussed how well the shell had been removed. But the decision was all I did not want to hear. Yes, I had to admit, I could see their rationale. My attempt was being rejected because a tiny fragment of eggshell remained stuck to the underside of the otherwise perfectly shelled egg! I sighed, but remembering I was being filmed, I hid my disappointment as best I could.

Great, because I was given a second chance. Wiping my hands on my shirt, as is characteristic of me immediately before making a world record attempt, I stepped right up to the table and inhaled. This time, I vowed under my breath, I would get it right. And that's exactly what happened. Having removed the shell from the second egg with alacrity, I stood back so the world record representative could once again inspect my speedy work. In fewer than 10 seconds, I had been adorned with a world record medal, and a huge certificate was being passed to me eagerly.

I exploded into celebratory mood, yelling how much I love breaking world records. Everyone present was smiling, I noticed. Not surprisingly, I received a number of comments about what an excitable young man I am. I grinned, knowing that much of Italy might think the same of me when the show got to broadcast. I love it!