Alastair Galpin
took to world record-breaking in 2004 after being inspired by a record-setting rally driver in Kenya. What began as a hobby soon escalated into an active publicity pursuit. Today, he promotes the work of social and environmental causes. For these purposes, the most fitting game plans are chosen; then world titles are attempted and frequently created.

Sustaining sponsor
If you would like regular exposure from Alastair's activities, become his Sustaining Sponsor:
A range of attempts annually
Your brand in multiple media
Distribute your own media releases
Receive product endorsements
More details about sponsorship opportunities
Special thanks
Behind every world record attempt is the expertise of professionals in their field.
Their success underpins Alastair's.
They are listed here
Fastest time to halve 10 matches with an axe: 4.31 seconds

This is the story behind my Guinness World Record™ for the Fastest time to halve 10 matches with an axe.
Let me tell you something. Give me an axe, give me matches, and leave me to play – and you'll see great things! That's just what happened when I decided doing this would make a wonderful world record attempt.

A close friend had given me a hand axe as a gift when I came to live halfway across the world. I've kept that axe ever since; to keep it, I carried it through international airports in Africa, Asia and Australasia. Yes, I had to defend my gift and I was prepared to fight for its ownership if I had to. Thankfully, the little axe has been safe all these years.

I was ecstatic to be able to use it for the most important thing in my life: involve it in a world record attempt. The day I pulled it from its sheath when I first began preparing for the attempt was a sentimental one for me, bringing back memories of my younger days in the South African wilderness with my friend. I clutched the blade tightly, as if to take me back in time.

Feeling a pinch, I let go quickly. I'd sliced the skin off my palm. That was bad at the time, but with such a sharp blade, I knew the world record attempt would be straightforward. I began planning what I'd do. First, I'd need to get hold of a chopping block. Next, I'd need to practise. And thirdly, I'd have to be sure to be the swiftest match chopper alive by the day the world record event came around. I could do that, because I believed in myself.

When I saw the sliced section of tree trunk, I was sure it would be suitable. I took it home and positioned it on the grass. With great eagerness, I began tossing the axe at it in gentle somersaults, hoping to peg the blade into the wood. Just for fun, since I was really meant to be practising – and I knew it! But when the handle suffered a blow, I stopped that game right away. Using the box of matches in my back pocket, I settled down to the actual task. What I wanted to see was a neat pattern of matches laid across the wood, in place to be hacked in half.

It took more time than I'd bargained on. As I laid each match down, it seemed I was creating some sort of artwork. Bizarre. But by the time I had new matches spread right across the sawn stump, it looked good. Sure, I thought it looked good because I had done it! This took me nearly 15 minutes; by then I was satisfied with the positioning and ready to destroy all matches in sight. Very slowly – almost in slow motion until the blade fell, I chopped the first. It cracked and then, halved, jumped off the wood to the left and right. The second match didn't deserve such loving treatment. I was feeling more confident by then. I slammed the axehead into it and it split so fast, to my eyes the whole thing vanished. All the other matches went the same way. I was enjoying this, so I tried another batch of matches. Laying them out the next time was a lot quicker. I felt sadistic; laying out these harmless matches so I could annihilate them individual by individual. But it was fun, so I continued.

By dusk I had become more confident than I probably should have been. Chopping with familiarity, I smacked the axe carelessly once and it slipped off the block, into my ankle. Pain. The blade had struck my shoe, but it still hurt. Inspecting the sore area, I saw a large vein and shuddered to think of if the axe had severed it. That was the end of my practising for the day.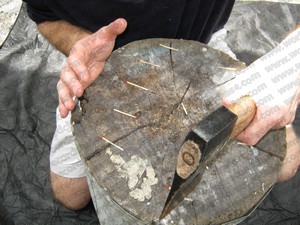 And so, it turned out, that was the last practising I did for weeks. I was arranging so many world record attempts for an upcoming public record breakers' event, my attention was thinly divided. The least of my worries was halving matches. But I did get myself to spend at least another half-hour perfecting my match-destroying technique closer to the day of the attempt. I was satisfied. I was ready. And I was still in love with my little axe.

My two assistants and I walked briskly onto the field at the event. Groups of spectators and event participants saw the axe in my arms. I can only imagine they would have expected me to do something spectacular with it, such as throw it blindfolded or split flying apples with it. I hesitated, but then shirked off my insecurity and laid out all my gear. On the temporarily positioned stage, I laid the wooden block. The announcer called everyone closer and announced what I was about to do. Some commented, and many young children took great interest. Somewhat nervously, I smiled at the staring faces inching ever closer.

The timekeeper counted down and I gripped the axe with enormous pressure. On the count of zero, my behaviour turned mechanical. Up, smash, move along, up... Then, pulling the axehead toward me, away from the chopping block, I exclaimed that I'd finished and the helper halted the running stopwatch. The announcement came and I was happy. Strangely, there were bits of match as far away as 3 metres. I was so pleased with myself, all I wanted to do was hug and kiss my axe. But, seeing all the eyes watching me, plus a photographer, I figured that wouldn't have been a wise move. I clenched my fists around my axe instead, telling it how much I loved it very softly. Nobody noticed; I felt rewarded.

Spectators had begun to disperse and all that was left to see to was the remaining admin. For posterity, I collected some of the broken matches after counting, which helped me prove what I'd done. A few minutes later, the world record attempt was over and done with, and I was immensely proud of my axe. I wished the friend who'd given it to me could have been there, to see what his gift had achieved. To me, this was a big deal. Perhaps not to anyone else, although I felt it was a privilege. As for the halved matches, apart from most having been wasted, I had a number in my pocket as special keepsakes for remembering the year I made news across the internet for match halving...