Alastair Galpin
took to world record-breaking in 2004 after being inspired by a record-setting rally driver in Kenya. What began as a hobby soon escalated into an active publicity pursuit. Today, he promotes the work of social and environmental causes. For these purposes, the most fitting game plans are chosen; then world titles are attempted and frequently created.

Sustaining sponsor
If you would like regular exposure from Alastair's activities, become his Sustaining Sponsor:
A range of attempts annually
Your brand in multiple media
Distribute your own media releases
Receive product endorsements
More details about sponsorship opportunities
Special thanks
Behind every world record attempt is the expertise of professionals in their field.
Their success underpins Alastair's.
They are listed here
Fastest time to butter 10 slices of bread: 52.42 seconds

This is the story behind my Guinness World Record™ for the Fastest time to butter 10 slices of bread.
I bet every person reading this can butter a slice of bread. I won't congratulate you even if you can butter 10, 20 or 100 slices. So what? But if you can do this in the context of a world record attempt, then you could be a force to be reckoned with. Well, that's my opinion. I feel so strongly about this that I went out of my way to demonstrate my personal ability when it comes to buttering bread. You'd be right if you thought I had something to prove. And not only prove myself to those I knew, but to the entire world. Look at me, look at me, look at me buttering bread. That could sound strange to you reading this, perhaps, but its part of history already.

Let me explain how this world record attempt came about. I love the taste of butter. Feeling its creaminess sliding down my throat is a pleasure I can't do without on a regular basis. As for bread – tempt me with a good quality loaf and I'll consume the entire thing in one sitting. Yes, that's right. I can eat a loaf of bread in under half an hour, but only if it is very good. So, put those two together and one has a potential world record. Not sure if that's how you see things, but that was my perception. So on my next visit to the local shop, I began what ended up being a period of over-buying fresh bread and bricks of butter.

I arrived home with more bread than I could possibly eat without feeling sick, and 2 blocks of good quality salted butter. I'd practise and eat what I could of the remains. What I couldn't eat would go straight into my compost bin. Of course you follow the sense in all of this, I know. My time and money was about to be directed at another world record attempt first, and my body's need for food would be made to wait. But I couldn't resist; there was no way I'd sleep in peace unless I knew I could succeed at this. So I prioritised my next world record attempt ahead of my stomach's needs.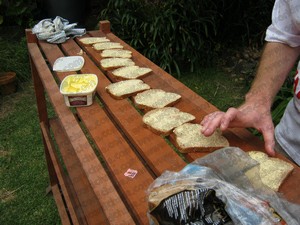 On the kitchen bench, I stacked all utensils in one corner, leaving me a large space on which to play. I liked the thought of playing with my food for a world record attempt, and I got going straight away with a blunt knife. I positioned the stopwatch on the windowsill but knew I'd be hard-pressed to keep an accurate eye on it as well as butter bread to perfection. The least I could do was try.

When the seconds ticked over, I was away as if in a race. Scoop butter, onto the knife, straight to the bread; back to the butter, onto the knife again and then the next slice. So it went. The semi-solid butter was breaking apart the bread and I dropped lumps of butter on several occasions. By the time I'd timed myself for spreading 10 slices, I think the stopwatch had forgotten about me – its time had run away completely. That simply wasn't good enough. I ate until my stomach was distended, then prepared for the next run.

Over time, I got better at it. When I felt my skills were of a sufficient standard, I asked a friend if his family would like to see how fast I can butter bread. "Ye-e-es you can; do you think you can show us all the world's best buttered bread?" he responded. Actually I can, I said with surprise. We had a date it seemed. Having gathered my assistants, we headed to the house near the beach. In the front yard, I laid out all I needed and paced around nervously. There would only be a single chance, since the quantity of room temperature butter I had was limited and I'd only brought one loaf. But I knew this could be a success, and I'd have the pleasure of eating the remains. Fancy that!

The resident family members were all wanting to be a part of this. They brought out a table and placed it right inside the front gate under the spreading cherry tree, laden with deep-coloured flowers – anyone driving up the street could see there was something about to take place. I was handed a dish towel and received plenty of good wishes. Every person in the house came to watch the event at one bedroom window. I found that somewhat amusing, but really? I just wanted to eat. And soon I would; there was just a little buttering in between me and my meal.

The timekeeper lurked alongside me, checking that I was laying each slice out neatly. I positioned the knife exactly where I wanted it. Then I made sure the others present were fully aware of everything expected of them. They were. Great. So was I. We could proceed. Three, two, one, go! I scrambled for the knife, a hunk of butter and the closest slice. Smear. Another smear. Then I flipped a run of oozing butter back onto the bread and spread it across the slice with great speed. Done! I reached out to cut off the next blob of butter and the next and the next, each slapped onto a consecutive awaiting slice. I couldn't help thinking the faster I went, the quicker I could get the stuff down my throat. But, that wasn't the objective here, I knew. I continued to concentrate while coordinating a flurry of arm movement. A very brief flurry it was.

For all the intense effort and energy that went into making this world record attempt possible, it was over far too soon. That also meant snack time had arrived. But not so fast, I had to remind myself. There was a little admin to be completed, to be sent to the judges. To ensure this got done speedily, I asked the witnesses to inspect my handiwork, which they did with interest. What an unusual thing for them to have to do: look carefully over someone else's buttered bread, done at the greatest speed they could produce. Yet, both of them did it. And they nodded approval for several seconds, commenting on how I'd managed to smear the butter onto the edges of each slice, as stated in the rules. It was as if we were all caught up in some food preparation competition in a summer garden under the blooming cherry tree. I was being evaluated, and got immediate informal approval. I liked that – it meant I could wrap my jaws around the spread bread quicker. As soon as the admin was completed, I once again reached out to the table, but this time for a bite. Delicious. Even more delicious, I thought, because what I had in my mouth could be world famous very soon.

I was satisfied. So were the spectators in the room overlooking us. I remembered having recently bought far more bread than I usually do, and the shopkeeper having commented. Although my pleasure was coming from looking forward to another possible world record, I bet the shopkeeper's came from the extra spend I'd been making. Nevertheless, everyone seemed happy and that made me feel good!