World record breakers I have got to know are truly amazing people. Their work and their stories are so engaging, the least I can do to pay them tribute is to feature them here with pride.
My record-breaking friends come from many parts of the globe. And one thing unites us forever: our common achievements which make us world record holders.
Who is your favourite world record breaker? Suggest someone you'd like to see on this page.
Pass on your air miles
Have you got unwanted air miles?
By donating them to Alastair, you'll enable him to attempt records in new parts of the world!
Jeff Civillico

Jeff Civillico is a Las Vegas-based headline entertainer who blends his perfected art of juggling with friendly audience interaction and insane amounts of energy.
Jeff performs his Comedy in Action show on select nights at Planet Hollywood Restaurant at Caesars Palace Forum Shops, and makes regular appearances in the Nathan Burton Comedy Magic Show at The Flamingo.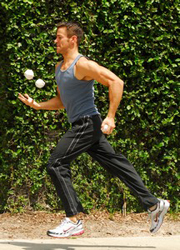 Jeff also holds a world record for bungee jumping on his unicycle (off a cliff in New Zealand!), and raised several thousand dollars for "Athletes for Special Kids" by running all 26.2 miles of the Disney Marathon while juggling.
His zany lifestyle and youthful spirit create an unforgettable entertainment experience for major corporations, colleges, and theatres nationwide. Jeff currently serves as the marketing director for the National Speakers Association of Las Vegas, and President of the Georgetown University Alumni Club
of Las Vegas.
His latest endeavour is Win-Win Entertainment, a non-profit Jeff recently created which pairs performers willing to donate their time and talent with charity organizations in need of entertainment.