World record breakers I have got to know are truly amazing people. Their work and their stories are so engaging, the least I can do to pay them tribute is to feature them here with pride.
My record-breaking friends come from many parts of the globe. And one thing unites us forever: our common achievements which make us world record holders.
Who is your favourite world record breaker? Suggest someone you'd like to see on this page.
Pass on your air miles
Have you got unwanted air miles?
By donating them to Alastair, you'll enable him to attempt records in new parts of the world!
Anthony Kelly
Getting into Guinness World Records™ once is an exceptional achievement. But to have been in the world's best-selling and most famous book with five current world records, one instantly attains 'legendary' status.
This is Australia's Anthony Kelly, a man who epitomises the unique bond shared by all Guinness World Records™ holders – that through years of hard work, dedication, passion and a genuine belief that you are the best that you can be, you can reach the top and stay there. That's exactly what Anthony has done.
Anthony became interested in martial arts at a young age after watching Muhammad Ali fight for real and Bruce Lee fight in the movies.
From those humble beginnings, Anthony's passion and dedication to his craft has enabled him to travel through Europe, America and the Far East setting and breaking incredible world records. He has earned black belts in a remarkable nine martial arts disciplines, and has become known, worldwide, as having the fastest reflexes on the planet.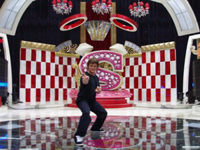 Anthony regularly puts this unique gift to use as the finest reaction training coach in the world. He was a key figure in the development of the discipline, and teaches world-class athletes to improve both physically and mentally, knowing that 1/100th second can be the difference between winning and losing.
Anthony is a 'once-in-a-generation' man. He's a martial arts expert, a Government- accredited sports coach, and an experienced television personality. His unique Reaction Training programme teaches one to become mentally and physically faster and stronger. But above all, he is a true leader.
More videos from Anthony Kelly