Alastair Galpin
took to world record-breaking in 2004 after being inspired by a record-setting rally driver in Kenya. What began as a hobby soon escalated into an active publicity pursuit. Today, he promotes the work of social and environmental causes. For these purposes, the most fitting game plans are chosen; then world titles are attempted and frequently created.
Good cause of the month

Elephants For Africa, Botswana, is dedicated to elephant conservation through research and education.
Sustaining sponsor
If you would like regular exposure from Alastair's activities, become his Sustaining Sponsor:
A range of attempts annually
Your brand in multiple media
Distribute your own media releases
Receive product endorsements
More details about sponsorship opportunities
Special thanks
Behind every world record attempt is the expertise of professionals in their field.
Their success underpins Alastair's.
They are listed here
Entertainment and television ideas
So you're a talent scout, surfing the internet for catchy new talent you can harvest. And you've landed here, where I break world records. Great!
Seven reasons to involve world records in shows for television and other forms of entertainment:
children love it
it's visually interesting
it's educational
it involves almost all possible scenarios
it's competitive
it is established worldwide
it need not be elaborate or expensive
Plus, shows can be tailor-made to suit your target audience by using an experienced world record breaker.
This page is here just for you and those agencies competing against you. That's my honesty coming through. Here you'll discover the fresh, yet appealingly skewed talent which is definitely the hallmark of my soul's make-up!
My world record acts have landed fair exposure in the real world. Now it may be time to squeeze these occurrences into new concepts by relocating them, the man behind them, and brand new events into TV studios for episodes of viewer pleasure.
Each of these synopses needs to be expanded to fit a particular programme aim. Once you've got
WorldRecordChase.com's permission
to use the ideas you read below, it'd be your job to match the concepts to the real world of television production.
Alastair Galpin is an independent world record breaker. He is not aligned with, nor does he represent, any world record system.
All synopses copyright: WorldRecordChase.com, Auckland, June 2011.
All rights to this content remain with the copyright holder until transferred in writing.
Synopsis 1: The maths behind records
Breathe life into maths. Illustrate it using world records that mesmerise children so much, they forget the subject used to boring.
Maths makes kids' eyes roll. When they grow up, their financial management could suffer.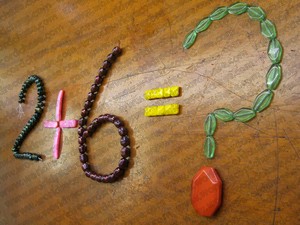 Chase that boredom out of classrooms by bringing me into the studio. I can move, think and talk in so many mathematically interesting ways. No world record attempt is anything but.
And every one of these world record stunts is a maths equation in some form. Multiplication, division, addition and subtraction – it's all here. So watch how.
For example, my colleague and I did
57 radio interviews in 24 hours
. You do the sums.
How many children with 330ml cups could enjoy the largest bowl of soup
? What would happen if half of them had seconds?
And, for older children,
how much force did the gambling machines we dropped from a helicopter
at 296 metres hit with ground with?
Think as you are entertained and you will soon understand your maths.
The world of maths is the world of records. That adds up to a cool TV show, doesn't it?
Synopsis 2: Man against animal
Animals can't explain how they routinely impress us world records-style, so let me step into the gap. I'll think and act like a range of non-human record breakers by trying my own.
I become the studio voice between selected creatures and youngsters who wonder, "how do those animals think?"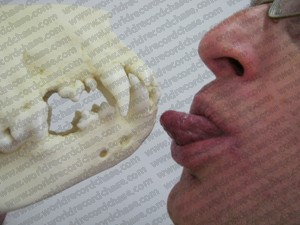 By acting as that bug; that coral; that fly, I'll try to beat them by using proportionately up-scaled challenges. For instance, what amazing skill from the wild can I replicate by
jumping sideways 90 times in a minute
? And which critter can I explain something about by
flicking a coin more than 12 metres
?
Questioning which children previously found impossible now comes alive. I am able to reply to "how does it feel?" and so many other common questions in the minds of little people.
Behaviours from the natural world, not quite understood by kids, become clear through me, the animal impersonator.
Propagate the next generation of young animal scientists with attention-arresting science made awesome. What a concept!
Synopsis 3:  Politically reframed through world records

Politicians think their power makes them all-knowing. Well, we'll bring them down to my level. Watch and see if they can explain their exuberant ways through metaphorical world record attempts.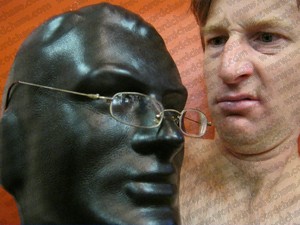 They split entire continents by building traffic lanes. They unite countries to become richer. And their actions are steering our globe towards none other than gigantic political aims. Who do these politicians think they are?
Enter crackpot world record enthusiast, Alastair Galpin. I'm here to split, unite and steer my own way into the realm of planet-wide politics.
Those big names are now under pressure – live in the studio – to have their mega-actions justified in world record terms. To start,
the longest handshake
has never belonged to a politician – despite how much time they devote to doing it. Neither has my
world record for the most hugs in an hour
, even though politicians hug an extraordinary number of people.
Can the crackpot successfully illustrate sweeping political moves and their lofty explanations metaphorically with simple-minded acts?
Long live handshaking, body-hugging world-changing politicians!
Synopsis 4: Popular science entertained
Showcase the most loved science stories from this new angle. Teach physics,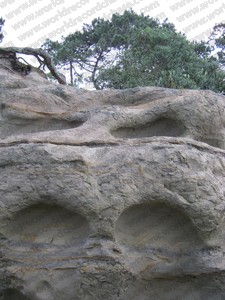 biology and more as I undertake world record stunts – because I'm subject to many of the same macro-influences.

We all love to learn more about how our planet works – its biological processes, geographical changes and much more.

And be sure, my world record attempts can engross your audience in an educational feast. So, what world record activities could I do on-screen to illustrate the earth's macro-processes that children ask about?

A 363cm tall vegetable I grew or perhaps snails oozing across my face are sure to grab viewers' attention. Addressing their inquisitive "how?" and "why?" questions is the way to bring earth processes to life with vivid meaning.

A human quirk becomes the televised vector of great kid science. Smart!

Let's not forget the circus
Some years ago, an Australian circus showed interest in my skills. If I got to perform with the right circus, I'd fit in well with the other odd personalities there. What a great thing to daydream of… swinging, rolling, hanging or even encountering danger with a circus world record attempt. I'd love it. So track me down if you dare.