Alastair Galpin
took to world record-breaking in 2004 after being inspired by a record-setting rally driver in Kenya. What began as a hobby soon escalated into an active publicity pursuit. Today, he promotes the work of social and environmental causes. For these purposes, the most fitting game plans are chosen; then world titles are attempted and frequently created.

Sustaining sponsor
If you would like regular exposure from Alastair's activities, become his Sustaining Sponsor:
A range of attempts annually
Your brand in multiple media
Distribute your own media releases
Receive product endorsements
More details about sponsorship opportunities
Special thanks
Behind every world record attempt is the expertise of professionals in their field.
Their success underpins Alastair's.
They are listed here
Most M&M pretzel candies moved with a straw in 1 minute: 62

This is the story behind my Guinness World Record™ for the Most M&M pretzel candies moved with a straw in 1 minute.
I've moved M&Ms as fast as possible into a container with a straw before, and I've succeeded at it. So I figured I could do it again with the same straw I used previously. And I was right.

It all started when I walked past the local chocolate shop, and spotted those M&M pretzels in their tray on the shelf behind the large street-facing window pane. I stopped. I thought. I felt my pocket to check that I had some cash and I spun round on my heels to begin the challenge of trying to beat myself at moving M&M pretzels by suction.

It's a strange feeling, challenging myself. For one, I know my competitor very well. Secondly, I know my competitor's skills are equal to mine and that puts me in a tricky situation! But it also provides me with an assurance that I can practise against the measureable performance of my foe. And I was ready for that action.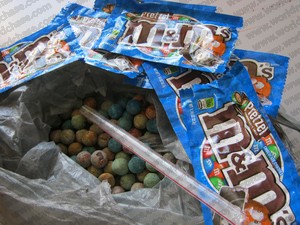 With my new M&M pretzels, I cycled home. I left the shopping packet hanging on the handlebars so the pretzels' chocolate coating would air and not melt which would have happened had I put them into my pocket. The hens and cat greeted me as I entered the gate at home, and I shuffled into my office where I hastily extended my arm over my table and swiped it to the left. Everything on my office desk moved over, and I positioned myself in front of my computer screen so I could follow the rules. Another "Al Galpin" moment was about to take place, and I could sense it already.

I breathed in deeply and smiled, confident that I'd shift nearly 70 of the chocolate balls from a plate into a container on my first attempt. Wrong! I made so many wrong moves, I stopped shortly after I'd started. Then I realised I needed to put my ego aside and begin trying just as anyone else would. And so I humbly began moving the M&Ms slowly, to get a feel for the movements and positions needed.

With each attempt, I got a little faster. Just a little. But after 2 hours of working at it, I was able to move the pretzels fairly quickly. I was ready, I thought. So out I brought my Swiss timer, chewed an M&M into bits and swallowed it for fun, and reread the rules in front of me. I was as prepared as I could ever be.

I clutched the straw as the timer reached the "start" point in the countdown. And I was away: suck, move, drop, return… suck, move, drop… Each time, I deposited an M&M into the container 30cm away. Well, not every M&M I sucked onto my straw, but most. After flicking my head this way and that, again and again, as fast as I possibly could, I was seeing double when the timer rang. I love that feeling, by the way. But when I came to my senses, I counted the M&Ms remaining on the plate, only to see I'd not made it. Oh no! Start gain, I told myself.

And so I did. This went on for another half an hour or so, during which time I ignored phone calls and emails. I didn't feel bad at all, especially since I find it tough respecting people who don't appreciate world records in society. It was far more important for me to succeed at this than to answer any enquiry – and I'm sure you agree.
And, as is typical of when I try these things, suddenly – without notice – I did a superb attempt. In fact, I was so pleased, I submitted it and that got me my latest world record. Done. Awesome!
You've just got to see the video, because I outstripped even my own hopeful expectations. I was so quick, I was left sitting at my desk with no more chocolates to suck up and spit off the end of my straw before my time had run out. It was somewhat a feeling of being dazed. For an instant, I thought this is what our societies will encounter – a surprise end to what we're doing - if we don't stop cutting down tropical forest for palm oil plantations to supply oil for sweet treats like chocolate! Why? Because once all the tropical forests have been cleared, there simply won't be more. And we'll be stopped in our developmental tracks.

Sure, that is indeed a very serious issue and it's real. It worries me, but I've got to have some fun too. To me, playing with the pretzels was just great. In one way, running out of balls to transfer was good – it showed how fast I can really be. But in another way, that left me somewhat deflated – if only I'd had more M&Ms on the plate. Well, better be grateful than not for what one's got, I say.

And you know what? I was able to think these thoughts through my temporary double vision, with my spinning head and while my lungs were still burning from the intense breathing. Saliva was splattered right across my desk, on my computer screen and even the closest wall. What's more, the M&Ms looked more like over-washed river pebbles under a kaleidoscope, speckled in the colours of melting chocolate, mixed colour coatings and small puddles of thick saliva. It was a rather beautiful sight. Unfortunately, though, I couldn't convince myself that a few M&Ms would be great to snack on right then.

I wasn't upset by that because my goal, as always, is to achieve ever-more world records, and not necessarily to eat the remains of my efforts. So, I processed the admin I had to do, put the wrappers in the recycling bin as every chocolate eater should do, and sent off my evidence with hope.

And hope paid me back once again, for now I'm that much closer to attaining my 100th world record. Wow – it's getting nearer by the week. I feel full of energy and positivity, and what a great way to face life that is!