Alastair Galpin
took to world record-breaking in 2004 after being inspired by a record-setting rally driver in Kenya. What began as a hobby soon escalated into an active publicity pursuit. Today, he promotes the work of social and environmental causes. For these purposes, the most fitting game plans are chosen; then world titles are attempted and frequently created.

Sustaining sponsor
If you would like regular exposure from Alastair's activities, become his Sustaining Sponsor:
A range of attempts annually
Your brand in multiple media
Distribute your own media releases
Receive product endorsements
More details about sponsorship opportunities
Special thanks
Behind every world record attempt is the expertise of professionals in their field.
Their success underpins Alastair's.
They are listed here
Most cucumbers snapped in one minute: 75

This is the story behind my Guinness World Record™ for the Most cucumbers snapped in one minute.
Snapping cucumbers is great. I like the crunching sound they make as they split and bits of their flesh goes flying together with the odd pip and plenty of juice. I bet that sounds a little odd. But trust me, its a wonderful feeling.

A TV studio flew me to a venue that suited their staff. There, I was shown a table under the trees and told the film crew would be arriving shortly. Although I was accustomed to media in my life by then, I still felt my stomach turning. It was imperative that I succeeded, because a grocery company had sponsored boxes of cucumbers. What would I say to them if I failed this attempt on TV?

I stood in silence for a few moments, pondering. Yes, I had practised with - or wasted might be a better term – a bag of cucumbers back near my home. There was a specific method which worked best, and I had to replicate it. All sorts of things affected the speed at which I could snap: the height of the table, how closely the cucumbers were packed, and the angle at which each lay alongside the next. But nobody could have prepared me for the mishap which occurred that early morning.

The supplying company had been generous and helpful. Through no fault of their own, in the process of arranging our request, a load of very chilled cucumbers had been sent. This wasn't quite the plan. But it was too bad; I could hear the first of the TV crew assembling at the building's entrance and they were coming for me.

With painstaking effort, I laid out each cucumber at precisely the correct angle to the next one on the table which I had levelled as best I could in the grass. Others were being entertained by my cucumber management skill, but this wasn't planned. I knew I had a split second to deal with each and there was no second chance - for me to claim a world record or for me to show the viewers my abilities. Of their own accord, some cucumbers rolled ever so slightly so I had to reposition them with precision. They had to be lying at an angle that allowed me to pick each up, then flick away each half and not have these pieces land where I was yet to grab. That required me to use a particular wrist movement, and to exert pressure with only certain parts of my hand muscles. Of course this is of no consequence to anyone but a world record breaker, and right then it was foremost in my mind.

An employee came rushing out to say the film crew would need to start in ten minutes so that the live broadcast would slot in as planned. I scratched my head. There was nothing I could say but "That would be lovely". Those cucumbers had better snap the way I want them to, I thought. They would, because their refrigeration meant they were very turgid. The tests I'd done showed this, and I was able to break some into six or more sections with ease.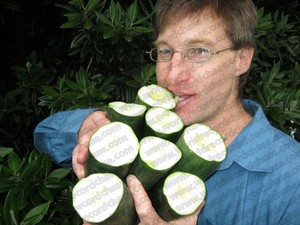 The timekeeper was positioned in the cameraman's field of vision. It was time. One after the other, I split the knobbly green cylinders. My hands tossed sections to the left and right, unintentionally high into the air. The cold in each cucumber was transferring to my hands and I gradually slowed down. The muscles in my wrists weren't able to keep up the swift and repetitive movements and I could see the difference in my cycle time. Around the corner on the table I went, following the line of cucumbers like some programmed robot on the hunt. In my peripheral vision, I could see at least one staff member jump back as one of the dripping projectiles flew straight toward her. It missed.

I kept going. The cold was then affecting my speed with more impact, and the timekeeper was giving me an update on the available seconds left. Each time she did so, it seemed by hand motions hastened, just fractionally. I raced along the opposite edge of the table and sped towards the last cucumber, finishing before the timekeeper stopped me. Oh dear! Where's that grocery company, I thought with a sense of longing. However, no amount of wishing would produce more cucumbers instantly, I was aware, so all I could do was stand back and look into the TV camera. It was all over for me.

After cleaning up the mess and asking that the cucumbers be given to the local zoo, I joined the staff inside. They congratulated me and explained how the footage had come across really positively for the viewers. Well, that's great, I was thinking, but they'll never know the depth of management required to bring such a simple stunt to their TV screens.

As usual, I returned home to complete the admin which needs to accompany every world record attempt claim. I found it pleasing to be told that this event had generated higher than average viewer ratings on national TV. That was quite something, I remember. In fact, it goes to show that the things I get up to are actually of great interest and hold wide-ranging appeal. I mean, much of New Zealand turned their attention to their TVs that morning, so I've proven it, haven't I?